IT'S OUT! (blatant book pimping post)
My book, "Dispatches from the Peninsula: Six Years in South Korea" has officially been released. I would have never gotten the opportunity to write the book if it wasn't for this for the years I spent slogging away at this blog, so it's terrific to announce it here.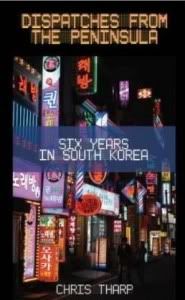 It's available at most major bookselling websites, including
AMAZON
. It should be making it into some stores in Korea and the Northwest soon, so look out for it. I'll be doing a small US book tour in early December stopping in Seattle, Olympia, and Portland and will post details here.
Reviews have been great so far. Check 'em out:
BUSAN HAPS raves!
This popular Korea blogger gives is a
BIG THUMBS UP
...and the personal responses have been just awesome.
So.... BUY IT!!!